2016.01.20 Wednesday
◆SKULL SKATES JAPAN PARTY at SBC レストラン(バンクーバー、カナダ)
先日も少しお知らせしましたが
カナダ、バンクーバーの
SBCレストラン
にて
SKULL SKATES JAPAN パーティーを開催!!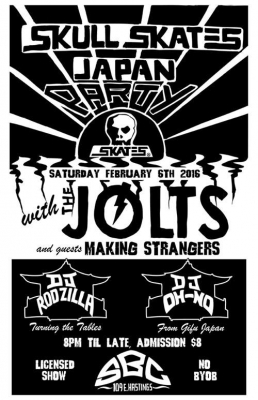 In recognition of Skull Skates Japan, established in Gifu Japan, in 1994,
SBC restaurant and Skull Skates present,
THE SKULL SKATES JAPAN PARTY
Featuring D.J.'s RODZILLA from Canada and OH-NO from Japan plus
Live acts Making Strangers, headlined by THE JOLTS.
19+ licensed event.
NO BYOB
Admission a measly 8 bucks.
Come early and skate.
Stay late and party.
At SBC, 109 east hastings ( near Columbia St. )

on Sat Feb 6th. From 8pm til late.
ということで
バンクーバーに住んでいる方や 丁度遊びに行く予定がある方は
気軽にふらり〜と遊びに来ていただければと思います。
バンド(THE JOLTS)、DJRODZILLA (私も、、汗)とゆるい感じなので 
バンクーバーで土曜日の夜 暇!!
という方どうぞ!
こちらの場所ですが レストランという名前ですが
屋内ランプを完備しているので この時期のバンクーバーの
雨、雨 雨にうんざりでも スケートできます!
早めに来てスケートっていうこともできるかと
思います!
(バンドのステージがランプの中になる可能性がありなので
当日確認してください)
日にち 
2016年 2月6日(土曜日)
場所 
SBCレストラン(109 east hastings St)

時間 20時〜
入場料 $8ー
ちなみに 成田、関空とバンクーバー直行便でてます!(笑)
待ってます!(笑)